Email Judy Dobransky or
Brenda Eberhardt for quantity availability.
Start Value Book - $25
Laminated pages including a +.1 Bonus Card as well as both a 0.75 and 0.95 card for those NCAA vaults that have different Start Values.
Chief Judge Neutral Deductions Book - $12
Neutral Deductions are taken from the Average Score by the Chief Judge. They must be indicated to the coach verbally or by visual means following the exercise.
Shorthand 101 - $12
Learn how to record what you see when judging a routine.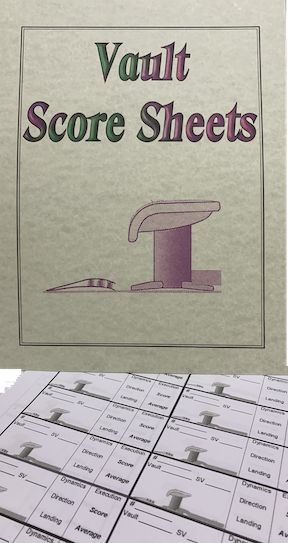 Vault Scoresheets Book - $12
50 pages back to back of Optional Vault Graphics
Compulsory Master Scoresheet Book - $20
One page per event per level with a list of specific deductions and blank sheets to score the routines. Make your own copies for the event you are judging each week. Also included is a listing of General & Chief Judge Deductions along with Timing and Scoring Information.